A Research on the General Knowledge of Pastry Chefs About Food Colorings and Their Awareness of Reading Labels
Keywords:
Food additives, Food coloring, Gastronomy, Hyperactivity, Pastry chefs
Abstract
Food colorings are substances commonly used to increase the desire to eat by making the appearance of the food more attractive. This study aims to determine the general knowledge of pastry chefs about food colorings and their perception of label reading awareness. For this purpose, field research and focus group interviews were used, and content analysis was applied to the research data. With the focus group interview data analysis, we determined the awareness of pastry chefs towards synthetic food colorings under two main headings (understanding the health effects of synthetic food colorings and food labels reading habit) and two sub-headings. We examined the food colorings used in many boutique pastry products, and, as a result, we observed that the food colorings that are common in the sector are synthetic. In addition, food colorings have been proven to cause behavioral disorders such as sleeping problems and hyperactivity in children, and some food coloring brands also state this information on their labels. As a result of our focus interviews with five pastry chefs who use synthetic food coloring directly in their workplaces, we observed that the knowledge on synthetic food coloring causes behavioral disorders in children is not very common among pastry chefs. We also determined that pastry chefs do not consider the health warnings on food coloring labels. In conclusion, the general knowledge of pastry chefs about food colorings and their awareness of label reading is insufficient.
References
Adler, K., Salanterä, S., & Zumstein-Shaha, M. (2019). Focus group interviews in child, youth, and parent research: an integrative literature review. International Journal of Qualitative Methods, 18, 1609406919887274.
Ahmed, M. A., Al-Khalifa, A. S., Al-Nouri, D. M., & El-Din, M. F. S. (2021). Dietary intake of artificial food color additives containing food products by school-going children. Saudi Journal of Biological Sciences, 28(1), 27-34.
Bakthavachalu, P., Kannan, S. M., & Qoronfleh, M. W. (2020). Food color and autism: A meta-analysis. In Personalized Food Intervention and Therapy for Autism Spectrum Disorder Management (pp. 481-504). Springer, Cham.
Clemens, R., & Pressman, P. (2018). Coloring the Truth: Color Additives in Nutrition and Health. Nutrition Today, 53, 169-173.
Corradini, M. G. (2019). Synthetic food colors. Encyclopedia of Food Chemistry, 1, 291-296.
Danilola, S. T., Omotesho, O. A., & Animashaun, J. (2019). Consumer awareness of the use of food labels in Lagos state, Nigeria. International Journal of Food Studies, 8(2).
de Sá, F. P., Cunha, B. N., & Nunes, L. M. (2013). Effect of pH on the adsorption of Sunset Yellow FCF food dye into a layered double hydroxide (CaAl-LDH-NO3). Chemical Engineering Journal, 215, 122-127.
Delgado-Vargas, F. (2002). Natural colorants for food and nutraceutical uses. CRC press.
Dilshad, R. M., & Latif, M. I. (2013). Focus group interview as a tool for qualitative research: An analysis. Pakistan Journal of Social Sciences (PJSS), 33(1), 191-198.
Directive, H. A. T. (1994). European Parliament and Council Directive 94/36/EC of 30 June 1994 on colours for use in foodstuffs. Official Journal L, 237(10/09), 0013-0029.
Downham, A., & Collins, P. (2000). Colouring our foods in the last and next millennium. International journal of food science and technology, 35(1), 5-22.
Drisko, J. Drisko W., & Maschi, T. (2016). Content analysis. Pocket Guide to Social Work Re.
Feldman, E. J. (2019). A practical guide to the conduct of field research in the social sciences. Routledge.
Francis, F. J. (2002). Food colorings. Colour in food: Improving quality, 16, 297-330.
Gallo, M., Ferrara, L., Calogero, A., Montesano, D., & Naviglio, D. (2020). Relationships between food and diseases: what to know to ensure food safety. Food Research International, 137, 109414.
Greenhawt, M., & Baldwin, J. L. (2008). Food colorings and flavors. Food Allergy, 403.
Grumezescu, A. M., & Holban, A. M. (Eds.). (2017). Natural and Artificial Flavoring Agents and Food Colorings (Vol. 7). Academic Press.
Hastaoğlu, E., Can, Ö. P., & Vural, H. (2018). The Effects of Colorants Used in Hotel Kitchens in Terms of Child Health. Avrupa Bilim ve Teknoloji Dergisi, (14), 10-16.
Kanarek, R. B. (2011). Artificial food colorings and attention deficit hyperactivity disorder. Nutrition reviews, 69(7), 385-391.
Kobylewski, S., & Jacobson, M. F. (2012). Toxicology of food dyes. International journal of occupational and environmental health, 18(3), 220-246.
Kucharska, M., & Grabka, J. (2010). A review of chromatographic methods for determination of synthetic food colorings. Talanta, 80(3), 1045-1051.
Makeen, H. A., Alqahtani, S. S., Alam, N., Menachery, S. J., Ageeli, R. M., Kadumi, Y. J., & Jerah, A. A. (2021). Parental Perception of the Role of Color Additives in Food on Children's Behavior in Jazan Region of Saudi Arabia. Current Topics in Nutraceutical Research, 19(3), 308-311.
Martins, N., Roriz, C. L., Morales, P., Barros, L., & Ferreira, I. C. (2016). Food colorants: Challenges, opportunities and current desires of agro-industries to ensure consumer expectations and regulatory practices. Trends in Food Science & Technology, 52, 1-15.
McAvoy, S. A. (2014). Global regulations of food colors. Manuf Confect, 94(9), 77-86.
Mittal, J. (2020). Permissible synthetic food dyes in India. Resonance, 25(4), 567-577.
Myint, T. M., & Kyu, M. M. (2021). Assessment of Health Risk of Food Dye Colors. Yadanabon University Research Journal, 11(4), 1-8.
Nowak, P. M. (2020). Simultaneous quantification of food colorants and preservatives in sports drinks by the high performance liquid chromatography and capillary electrophoresis methods evaluated using the red-green-blue model. Journal of Chromatography A, 1620, 460976.
Rinsky, G., & Rinsky, L. H. (2008). The pastry chef's companion: a comprehensive resource guide for the baking and pastry professional. John Wiley and Sons.
Shanmugasundaram, P., & Rujaswini, T. (2019). A Review on Food Coloring Agents–Safe or Unsafe?. Research Journal of Pharmacy and Technology, 12(5), 2503-2505.
Spencer, C. (2018). What is so unappealing about blue food and drink?. International Journal of Gastronomy and Food Science, 14, 1-8.
Stevens, L. J., Burgess, J. R., Stochelski, M. A., & Kuczek, T. (2014). Amounts of artificial food colors in commonly consumed beverages and potential behavioral implications for consumption in children. Clinical pediatrics, 53(2), 133-140.
Styśko-Kunkowska, M., Wąsowicz, G., & Grunert, K. G. (2018). Gaining Wealth and Deep Insight Into Meaning of Colors in Nutrition Labeling Using an Extended Focus Group Interview. SAGE Publications Ltd.
Trasande, L., Shaffer, R. M., Sathyanarayana, S., Lowry, J. A., Ahdoot, S., Baum, C. R., ... & Woolf, A. D. (2018). Food additives and child health. Pediatrics, 142(2).
U.S. Food and Drug Administration. (2017, March 11). Color Additives History. Retrieved March 13, 2022, from https://www.fda.gov/industry/color-additives/color-additives-history
Wise, N. (2021). Hot cocoa bombs: delicious, fun, and creative hot chocolate treats. Simon and Schuster.
World Health Organization. (2018, January 31). Food additives. Retrieved March 04, 2022, from https://www.who.int/news-room/fact-sheets/detail/food-additives.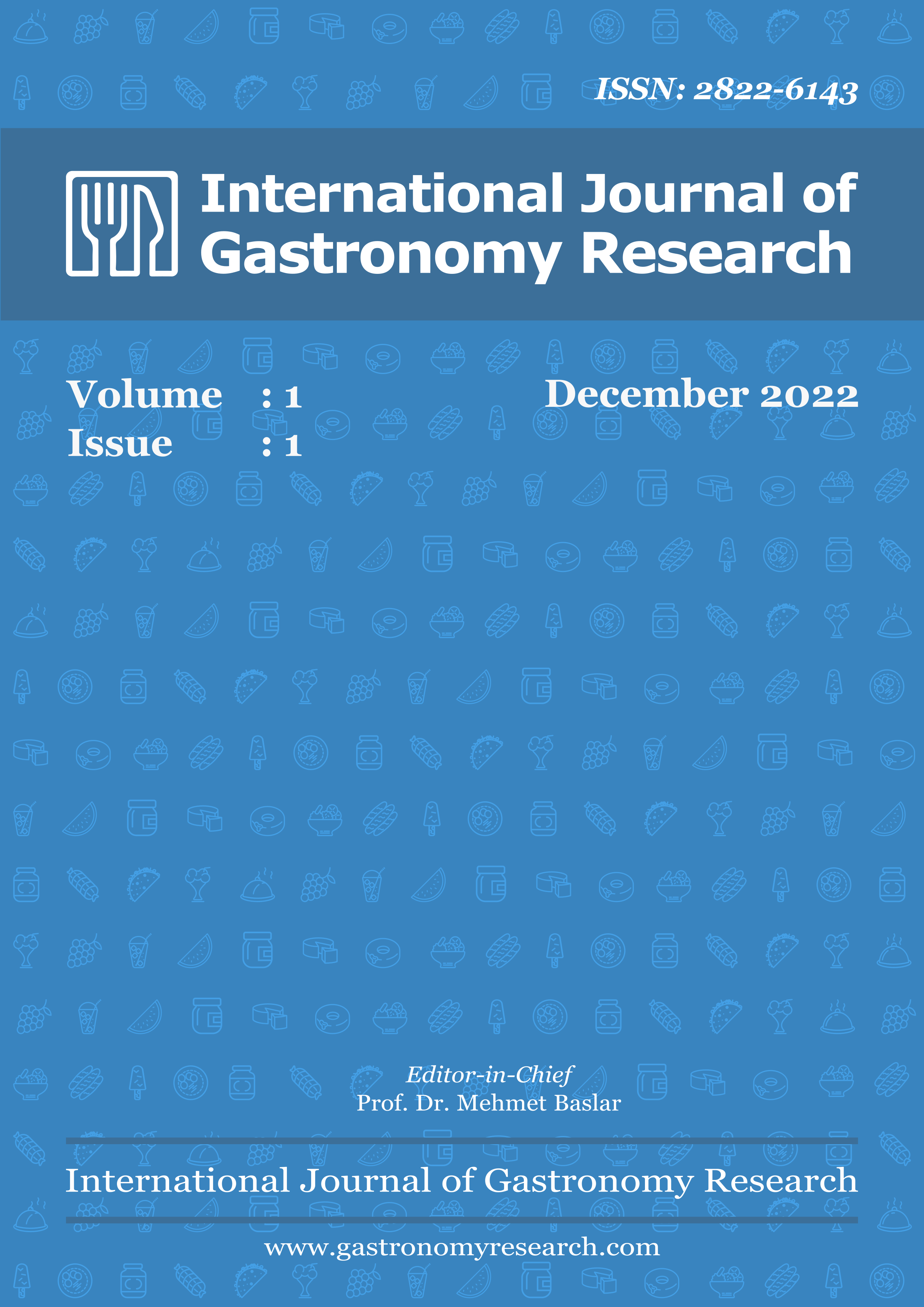 Downloads
Section
Original Research